Fall Foliage Getaways in New England
Foliage is a special time of the year in New England.
The brilliant shades of yellow, orange, and red begin to appear in the northern part of the New England in early-to-mid September and the colors move southward through mid-to-late October, ending in southern New England coastal areas at the end of October.
It's never too early to book for this magical season.
Call or email your favorite Passport Inn and book now!
White Mountains To Blue Harbors
Four Night Package – $900.00
This spectacular New England Experience will carry you from the summit of Mount Washington in the White Mountains of New Hampshire to the rocky coast of Maine and the historic schooner filled harbor of Camden! This special 5 day, 4 night package is a perfect way to experience two of the best loved wonders of New England.
Enjoy luxurious accommodations in guest rooms with fireplaces and private baths at two Passport to New England Inns. Savor bountiful New England breakfasts each morning before you begin your day's adventure. A New England Experience you have dreamed about!
We'll make the necessary arrangements for you, and top it off with a suggested scenic route including little known stops along the way for your drive between inns.
This New England Experience is available Sunday through Thursday throughout the months of May, June and July.
Lodging at the Notchland Inn in the smallest town in New Hampshire, Hart's Location
Ascent to the top of Mount Washington
Passes for bicycling the Great Glen Trails
A fabulous Breakfast each morning
Lodging at the Inns at Blackberry Common, in charming Camden, Maine.A two-hour cruise aboard a Maine schooner
An incredible breakfast each morning
Price for two people, based on double occupancy:
Stay two nights in each inn or create your own four night experience
$900.00 per couple
Linger Longer – add additional nights
$199.00 per night
Prices exclude taxes and gratuities
Minimum night stay requirements may apply.
Call for Holiday and Foliage rates.
Room upgrades available.
Birding Tours
Bird Watchers Love Passport Inns
Birding is a wonderful way to enjoy the outdoors year round! Many of the Passport inns are on major flyways and offer outstanding opportunities to see bald eagles, falcons, Atlantic puffins, song birds and hundreds of other migrating and non-migrating birds. Your Passport innkeeper can help you plan a bird watching adventure that you will long remember! Here are just a few examples of birding trips.
Applegate Inn – Lee, MA
Some of the best, most convenient places to bird watch are the Pleasant Valley Wildlife Sanctuary, Canoe Meadows Wildlife Sanctuary and the Lime Kiln Farm Wildlife Sanctuary – all part of the Massachusetts Audubon Society.
Pleasant Valley Wildlife Sanctuary (7.7 miles from the Inn), Lenox, MA
http://www.massaudubon.org/get-outdoors/wildlife-sanctuaries/pleasant-valley
Canoe Meadows Wildlife Sanctuary (10.1 miles from the Inn), Pittsfield, MA
http://www.massaudubon.org/get-outdoors/wildlife-sanctuaries/canoe-meadows
Lime Kiln Farm Wildlife Sanctuary (19.3 miles from the Inn), Sheffield, MA
http://www.massaudubon.org/get-outdoors/wildlife-sanctuaries/lime-kiln-farm
New England Falconry (54.3 miles from the Inn), Hadley, MA
http://www.newenglandfalconry.com
New Hampshire School of Falconry- 14 Miles from the Inn Antrim, NH
http://www.nhschooloffalconry.com/
Whalewalk Inn – Eastham, Cape Cod, MA
Cape Cod, Mass Audubon Trails are a 10 minute drive from the Whalewalk Inn & Spa.
Whether you're looking to hike mountain trails, paddle a Massachusetts river, or see pond critters up close, Mass Audubon has something for everyone. www.massaudubon.org.
Another way to see birds, especially Shore Birds, is on a kayak trip. Gosse Hummock http://www.goose.com/ will give guided tours of the marshes along the Atlantic side and who knows what birds you might see, especially keeping your eye out for those cute little Plovers.
Inns at Blackberry Common – Camden, ME
Just off the coast, lies Eastern Egg Rock, southern most nesting island for Atlantic Puffins. Tours are available from May thru late Aug. Guaranteed sightings of these rare and captivating birds. A MUST if you enjoy birding!
American Bald Eagles and loons delight visitors along the coast and lakes. Song birds, waterfowl and 80 bird species are seen while hiking, walking and even on a 2 hour sailing cruise. http://maineaudubon.org/midcoast/
Inn at Bay Ledge– Bar Harbor, Maine
If you are looking for an excellent Maine Vacation Experience and a place to see and hear birds with local experts, there is no better place to find them on Mount Desert Island, Maine during the Acadia Birding Festival. Mount Desert Island is the home of Acadia National Park which protects an amazing number of habitat types. Another way to experience our shore birds is by water on a nature cruise. You will see Puffins, Garnets, Razorbills, Murres, Shearwaters, Fulmars, Storm-Petrels and many more! The views of the island from the water are breathtaking!
Acadia Birding Festival
Down East Nature Tours
Acadian Nature Cruises
Maine Stay Inn and Cottages – Kennebunkport, Maine
The Maine Audubon recommends Mount Agamenticus in York and the Kennebunk Plains on Route 99 Kennebunk for birding.
There are also 2 reserves close by, Laudholm Farm and The Rachel Carson Reserve that have assumed responsibility for monitoring piping plover sites. The piping plover is an endangered species in Maine. These would be great locations for piping plover watching. Both Laudholm Farm and the Rachel Carson reserve offer educational programs and birding would be included in their curriculum.
Wells Reserve at Laudholm Farm
The Notchland Inn– Hart's Location, NH
Often guests are amazed by the variety on birds visible from our dining room windows; at the feeders, on or near the pond, or in the forest's edge close by…dozens of species while you sip coffee.
Within short distances of the inn it is possible to see, Bald eagles, Loons, Osprey, Peregrine Falcons, Red Tail hawks, Gray Jays, and the one for your life list…Bicknell's thrush.
Crawford Notch, Hart's Location, NH (0 – 6 miles from the inn)
Franconia Notch, Franconia, NH (35 miles from inn)
Pinkham Notch, Gorham, NH (24 miles from the inn)
Weeks State Park, Lancaster, NH (33 miles from the inn)
MT Washington, (24 miles from the inn)
Pontook Reservoir, Dummer, NH (55 miles from the inn)
Pondicherry Wildlife Refuge, Whitefield, NH (27 miles from the inn)
Evans Notch, Chatham, NH & Stowe, ME (45 miles from the inn)
Loon Center, Moultonborough, NH (50 miles from the inn)
New England Breweries
New England is home to hundreds of craft brewers
Scattered throughout New England there are hundreds of breweries. If you are interested in learning about craft breweries you could visit several while staying at Passport Inns. Most of these breweries conduct free tours and some offer tastings as well. Below are links to websites that list breweries located in that state.
Granite State Brewers Association
Appalachian Trail
Starting, finishing the Appalachian Trail or taking a day hike, it is a challenging adventure! The Inn at Bay Ledge would like to offer you a place to relax and prepare or welcome you after you have completed your trek. Let us pamper you with comfy beds, whirlpool baths, decks overlooking Frenchman Bay. Wake to striking sunrises, enjoy a sumptuous breakfasts on the porch, take a walk on the each. It is your time to relax, renew and rejoice with the challenges you have accomplished!
Baxter State Park/Mt Katahdan
www.baxterstateparkauthority.com
Appalachian Trail
www.appalachiantrail.org/about-the-trail
Maine Coast Getaway
Experience the Best of Maine's Coast
Vacation on the coast of Maine! Quaint seaside villages with quiet walks, gorgeous rocky shores and sandy beaches await you! Our Maine Coast Getaway gives you the best of Kennebunkport and Camden and all points in between! Both of these quintessential New England seaside villages boast similar traits. Both historic villages offer unique shops, 4 seasons of recreation, fabulous dining choices ranging from casual to 5 star, kayaking, whale watching, hiking, lighthouses, golf, and pampering at a fabulous spa. Both inns excel in personal service eager to help guests select the perfect room, the perfect dining experience, and the perfect activities. Guide us and we will plan your perfect getaway.
Spend 2 nights, May – July at the Maine Stay Inn & Cottages in Kennebunkport and 2 nights at the Inns at Blackberry Common in Camden. Enjoy a multi-course gourmet breakfast each morning at each Inn and when you mention this Passport to New England special offer when booking you'll be welcomed at each Inn with a special cheese and fruit platter!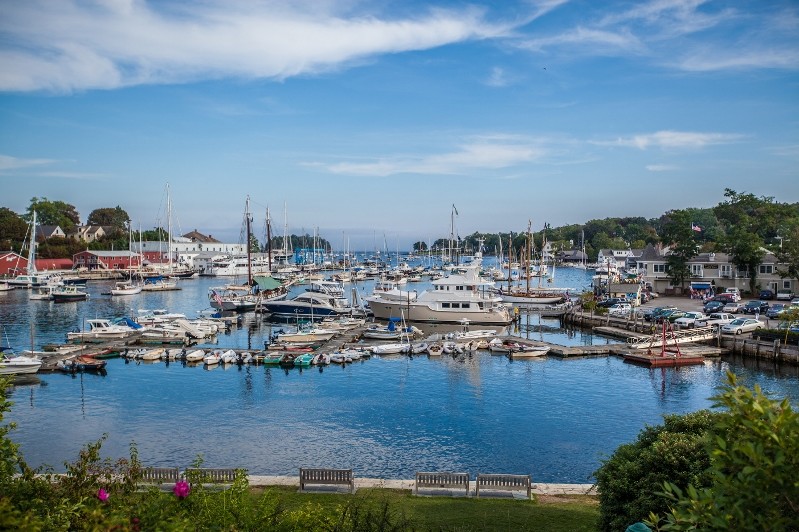 Call either Maine Stay Inn and Cottages at (207) 967-2117 or the Inns at Blackberry Common at (207) 236-6060 to book this fabulous Maine Coast Getaway… The innkeepers are ready to plan your trip!